Welcome to ctbiofarmer.com!
Home | Barnevelder Chickens
After the Thanksgiving turkeys are sold each year, the winter months come along and things around the farm are quieter. During this season, I spend a lot of my time repairing old wind-up clocks.

Throughout my life, I've enjoyed repairing and building machines. A large part of my career (the part that generally paid the bills enough so I could keep farming) was spent repairing industrial equipment for small and midsize companies. When completing challenging jobs for new customers, they would occasionally tell me that several others had tried to fix the machine without success, and that they were grateful that I found a way to get their equipment running again.
I've needed to slow things down a bit in my old age, and can't work on the big industrial equipment like I used to. What I've found to work on instead is old wind-up clocks.
My interest in them started back in Holland, where my father owned a few Dutch clocks. When he died, I inherited most of them, and when they would break, I would have to figure out how to fix them. In time, I got to understand quite well how they work. Friends with wind-up clocks would hear what I was up to and next thing I knew, I was fixing their wind-up clocks.
During the winter months when I'm not so busy, I spend some time looking for broken clocks on eBay, and travel back to Holland once in a while to visit family and buy some clocks while I'm there. I'll clean and oil them well, repair what needs to be repaired, and once I'm satisfied that they're working nicely, sell them to people who are interested.
While my primary interest is in Dutch clocks, I've repaired many American-made and other clocks. When someone brings me a clock for repair, I'll clean and oil the movements and check for excess wear, then look it over and figure out what's wrong with it, find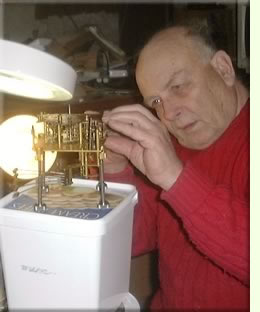 or make replacment parts, put it back together, let it run and make additional adjustments or repairs as needed over the course of several weeks until it stops giving me trouble. It's not an overnight repair; these things can be fussy at times and require a lot of patience. But I try my best to give your clock back to you in good working order so it'll do its job of decorating your home and keeping time again for as long as possible.
If you have any questions, please give me a call or send me an e-mail at the address below.
Back to the Home Page